Open Joint Stock Company TANECO, Tatarstan Oil Processing Complex, is Russia's largest oil refining Complex.
The company was founded on 12th October 2005 and consists of three interconnected plants:
 Refinery with capacity of 7 million tons of raw material / year
 Advanced oil processing plant
 Petrochemical plant
Planned production is 18 kinds of oil deep conversion products – starting from engine fuels of European Standards to feeding components for a wide range production of unclaimed petrochemical products.
CHALLENGE
Due to the hazardous conditions of industrial sites it was necessary to install PA/GA system including emergency one which made it possible to improve safety, prevent human losses and to reduce material expenditures in emergency situations.
Another main concern was improving of technology process management at the industrial site which results in higher labor productivity.
CUSTOMER'S FEEDBACK
«Thanks to the well coordinated work of Armtel specialists the intercom system was supplied and put into operation. The commissioning works were carried out quickly, efficiently and with high quality. That allowed us to prepare the launch of the plant first capacities on schedule and to provide the necessary security level at the industrial site».
I. Nugmanov CTO at OJSC TANECO
PROJECT DETAILS
TPC Orion-Kazan, OJSC / OJSC Taneco Oil Refining and Petrochemical Complex, 1st Complex
Location: Nizhnekamsk, The Republic of Tatarstan, Russian Federation
Project type: Intercom and PA/GA for Oil Refining and Petrochemical Complex
Company staff > 2000
Delivery terms:
3 months as of 20.10.2010
Delivery date – 18.01.2011
The solution:
Distributed system – 6 remotely installed cabinets with DCN-Central Exchanges
 60 desktop DIS Call Stations
 20 Weatherproof DW Call Stations with the optional internal additional amplifiers 25 W, which are connected with weatherproof horn loudspeakers 25W
250 Explosion proof DW Ex Call Stations with the optional internal additional amplifiers 25 W, which are connected with explosion proof horn loudspeakers 25W
 Majority of the call stations are equipped with weatherproof and ex-proof signaling device because of high level of noise
 UPS – 1 hour
 Interface with PABX
 Interface with Fire Alarm and Gas Detection System (Modbus protocol)
PA / GA system is based on DCN central exchange modules which are connected with subscriber devices. The central exchange module is mounted in a process zone of an instrument room and constructively it is a lockable metal cabinet with thermoregulation; its protection degree – IP54.
All the equipment components of the central exchange module have light indication of general and emergency operating conditions. Also in the central exchange cabinet power supply system with standby rectifier and batteries is located.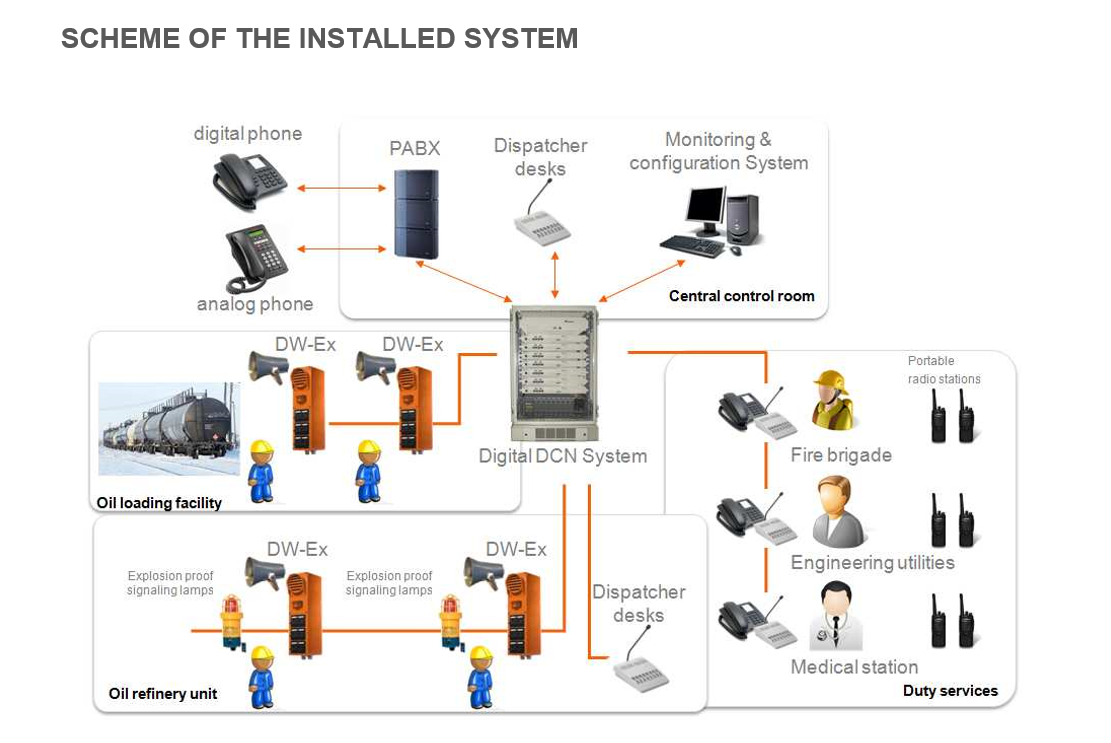 RESULTS
At the moment the system represents a distributed structure of central exchange equipment and periphery subscriber devices. It performs advanced functions apart from the standard ones.
The peculiarity of the project was providing additional test equipment for Transneft pipeline commissioning station that allowed TANECO to launch the first facilities of the plant in time. Afterward the system was expanded to cover all technological and auxiliary areas.
1. The installation of the reliable PA system has reduced number of accidents that results the company image and financially.
2. Due to the flexible and thorough system TANECO increased the productivity of the Complex and provided an extra output.